Speys automates logistics management and pricing for small and medium-sized (SME) industries. In the interface developed by Speys, it allows you to make quick price inquiries to different carriers, allowing the inquirer to reach the best offer for themselves.
In the Speys interface, industrial companies have an overview of all their shipments and where the respective shipments are located at different times.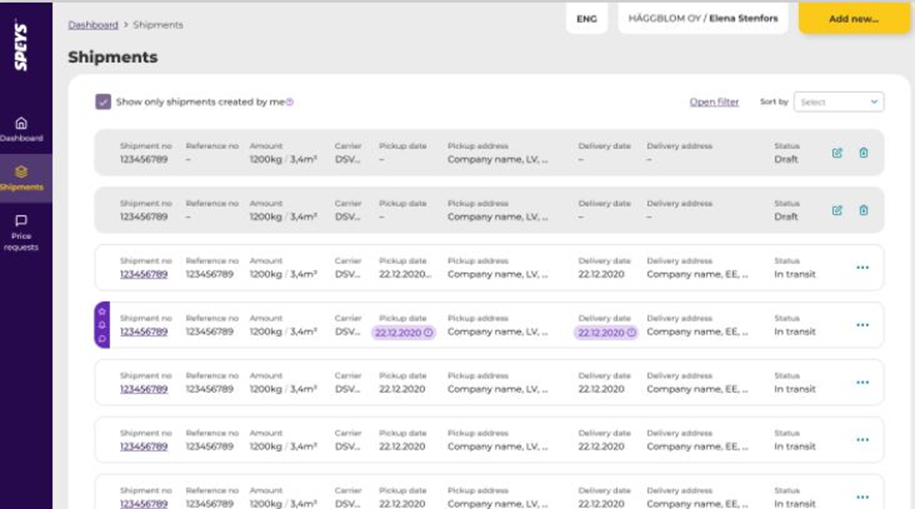 To continue and accelerate this, Speys team looked for ways to leverage funding from national funding measures. Haap Consulting was contacted for this.
Together, the product development support of Enterprise Estonia was selected for application, the aim of which is to encourage entrepreneurs to invest more in development activities in order to create new competitive products and services. The aid can partially compensate for product development costs, such as salaries and outsourced services. The most important components of the application are the application form, the project plan reflecting the development idea and the forecast of economic indicators.
The team at Haap Consulting and Speys worked together to develop the materials needed to support product development, with the goal of developing a unique price engine feature for the Speys interface in the region.
The cooperation between the two companies was successful and the project received a positive support decision from Enterprise Estonia in the amount of 254 thousand euros.
The Speys team has exciting times ahead and we wish them success in achieving their goals!
If you want help in preparing funding applications, please contact us at info@haap.ee or call +372 51 966 196.