In collaboration with SiLab we had the pleasure of supporting Tartumaa municipalities in improving the support system for children with special educational needs. This was done as part of the project "Creation and Piloting of the Tartumaa Wellbeing Program (HOP) Implementation Model" commissioned by the Centre for Educational Support Services at the City of Tartu. The project stemmed from the problem that the services suitable for children with special educational needs are often fragmented across different fields and municipalities, data doesn't always accompany the child, and there is a shortage of necessary specialists. Additionally, the problems of the child are not always detected early enough, so our research focused largely on support for children with special needs in early education.
The goal of the project was to create a case management model that bridges the fields of education, social services, and healthcare for Tartumaa municipalities. This model would allow for collaborative assessment of a child's needs, efficient planning of support services, and facilitate data exchange across different fields and municipalities. Haap Consulting's team was tasked with conducting an analysis of the current situation in municipalities and best practices from other countries to prepare for the design workshops.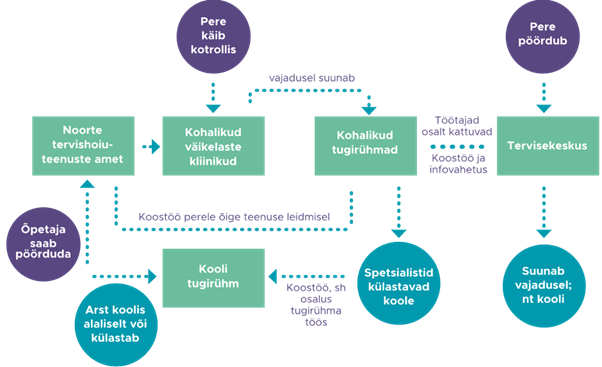 Joonis 1. System of preventive services in the Netherlands. Haap Consulting.
To find suitable solutions for Estonia, we delved into the support systems of four countries – Finland, Slovenia, Norway, and the Netherlands. We interviewed specialists in those countries, while researching good solutions from other parts of Estonia as well. In addition to data queries, we held virtual discussion days with each municipality, involving various stakeholders, such as kindergarten teachers, special education coordinators, social pedagogues, child protection specialists, speech therapists, and local municipality leaders.
As a result of the analysis of the situation in different countries and locally, recommendations were developed to guide the next phase of the project, which is the design of the collaborative model (done by SiLab). For example, drawing inspiration from Norway, we suggested that a specialist from the support services competence centre could be present at schools during set times (working there, for example, on a part-time basis) and actively participate in the work of the school's three-member support team. We also found the Finnish national counselling service, known as Valteri schools, notable for its nationwide counselling centres that offer visits to schools as well as remote counselling.